Today we have the pleasure of interviewing 0xSilkRoad, the founder of TeaParty one of the first Web3 Social & Earn (S&E) protocols.
In this article, together with 0xSilkRoad, we will cover, what Social & Earn is, what is his background, how to earn via Social media, what are the next steps for TeaParty, and many more.
Ready for a party? A TeaParty! Let's dig in!
[SurferInvestor] Could you please summarize briefly what TeaParty is about?
[0xSilkRoad] Introducing TeaParty, which is about all your social credits in one place. Basically, this platform was created to empower creators to boost their online presence and reach a greater audience while rewarding people for engaging it in a meaningful way.
[SurferInvestor] Could you please introduce yourself as a founder? What is your background?
[0xSilkRoad] Sure, I'm 0xSilkRoad, the founder of TeaParty. Before immersing myself full-time for TeaParty, I came from a background as a lead dev for a corporate.
Also to mention, I have led multiple projects for a government before. So pretty much an experienced Web2 dev in the past.
In terms of Web3 experience, I worked on a Web3-related project under a friend of mine before doing TeaParty.
[SurferInvestor] How did you come up with the idea of TeaParty?
[0xSilkRoad] The idea of TeaParty came along in the early days of my studies at University. However, I couldn't execute my idea because of the financial situation at that time, which limited my freedom to explore new things and work on my project.
The original idea of TeaParty appeared mainly due to my willingness to help promote small game projects developed by the so-called "indie game developers". I also very well understood how difficult it is to get traction and market those projects. The teams literally had no resources and faced difficulty marketing their games during that time.
My idea was to build a point-based system for social and in-turns getting rewarded.
Fast forward to today, thinking back with the same idea, with the introduction of blockchain and its infrastructure, I restructured my original idea and executed it with the knowledge of Web3.
[SurferInvestor] What item in the roadmap gets you the most excited?
[0xSilkRoad] I would say the "Social-&-Earn" is my biggest motivation and it inspired me the most when I designed the blueprint (became an NFT).
Another big reason would be the technology of Web3 and tokenization things empowered my idea and pushed me with a good sense that this might work.
[SurferInvestor] Why should I use TeaParty as a user? What problem does it solve?
[0xSilkRoad] TeaParty is a platform that allows any user to get their words out. Especially if you're a new business owner, young creator, or inspired to become an influencer.
The idea behind basically comes with a simple act that "help others when they are in need, and in return, the others will help you back when you are in need".
So, the TEA token is like an IOU, which can be earned if you help share the words about other people's works, and in return, you will get helped when needed.
[SurferInvestor] How many people are in the team?
[0xSilkRoad] Currently, I'm committed full-time to the project. However, I need to mention, that I'm not really alone, as I have a great community of supporters who are willing to volunteer themselves and help this project to be successful.
[SurferInvestor] In an ideal world, how would TeaParty look in 5 years?
[0xSilkRoad] TeaParty will fit into the section as a Social tool in the future. Which works something like LinkedIn. You don't really use it all the time unless you're looking for good advice about your career, or a new job, or you are in HR and hunting for candidates. So TeaParty will fit into such a category too.
[SurferInvestor] For people who wanna jump in, how can they get started?
[0xSilkRoad] Getting started in TeaParty is very easy. Two things. Either you're here to socialize or advertise your works.
So if you're here to socialize, you could head to our main page and look for any rewarding posts, then you start to engage and earn some TEA tokens.
However, the competition is very fierce, so to be as early as possible. You could head to our Discord and join the #notification channel to get notified if any latest rewards coming in.
If you're here to publish your works, you could either buy some TEA from the marketplace or put effort to earn TEA. You could use it to advertise your work with social activities such as "Retweet", "Like", or even "Follow" your account on Twitter. Similarly, we did the same for an Open Social Graph protocol called "Lens Protocol".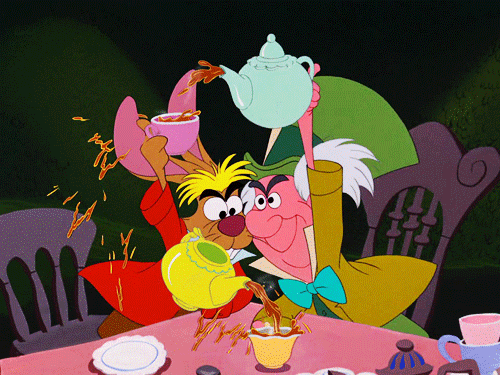 [SurferInvestor] Thanks a lot for telling us about your project! We wish you all the success and let's have some TeaParty!
>> Twitter
>> Marketplace
>> Website
---
If you enjoy web3 social experiments, also have a look at our interview of Supriyo about how Hyy.pe is working on connecting NFT communities together.